Did You Miss Your Window to Sell Your Home?
Is the housing market still a seller's market, or is it finally showing signs of slowing down? And what could the changing market conditions, mean for you as a seller, if this profound shift is happening?
Leading real estate professionals have been predicting that the seemingly endless growth in home prices, coupled with an unprecedented shortage of home listings, wouldn't last forever. Several factors suggest that the pivotal moment for housing markets across the country and Colorado Springs is at least around the corner.
As a seller, you may have been waiting for the best possible time to sell your home, or you weren't ready to sell until now due to personal circumstances. But have you missed your window to sell your home in the post-pandemic seller's market? Here's how you should navigate the changing market conditions if you are listing your home for sale and what an experienced real estate agent can do to help.
Let's look at the details.
Is the housing market in Colorado Springs, CO shifting.. yes it is, but where is it shifting too is the question. In order to look forward, we must first look back. You can see here the total number of Active Listings (homes for sale) for residential properties all the way back to 2017 in Colorado Springs, CO. As you move forward to 2022 you can see the huge increase in homes for sale 2022.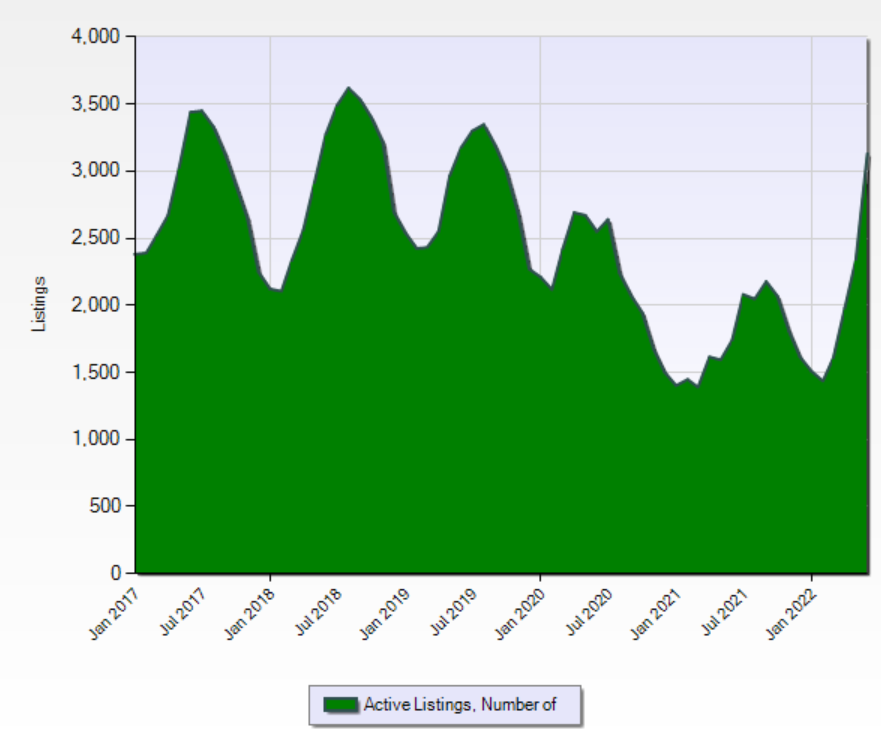 What does this mean for you as a seller? It means a few things.
1. You are rapidly approaching a market condition where the Seller no longer holds all the cards.
2. You should expect competition to get a Buyer to offer on your home.
3. You can expect the Buyer to start asking for more repairs after an inspection or maybe even reducing their offer price.
4. If you don't have a home in good to great condition, you can expect the Buyer to offer less than the asking price or not offer at all because there will be properties nicer than yours on the market. Get your listing priced right from day one and do not list your home for the actual value. Go low, say 2% and get a lot of interest and let the Buyers drive the house back up. $500 or $1000 low will not get any Buyer's or agents' attention. Remember the Buyers are or have been in the market for a bit. They know home prices way better than you think they do and know what is a good price!
We say these things not to scare you. In fact, you shouldn't be scared at all right now. The market is shifting back to a more balanced market. One where the Buyer and the Sellers are very much equal players and a true negotiation need to happen.
If you would like to discuss your situation in detail please reach out to us to schedule an appointment.